Aviation Insurance for private and commercial aircraft in Spain in English.
AVIATION AND AIRCRAFT LIABILITY INSURANCE IN SPAIN
Aircraft Liability and Hull insurance in Spain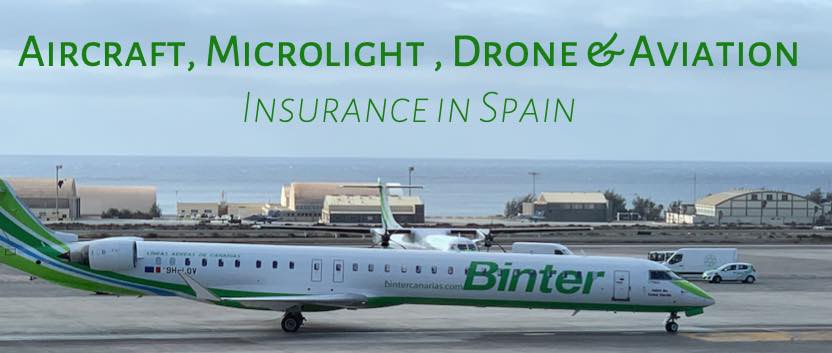 In Spain, like most other countries, Liability insurance is compulsory for virtually all forms of aviation and aircraft.
COMMERCIAL & PRIVATE AIRCRAFT INSURANCE IN SPAIN:-
Aeroplanes,
Sailplanes,
Gliders
Single engine aircraft
Ultra light planes (Microlights)
Drones
Flying models over 5 Kg.
There are two insurances to consider, The liability of the aircraft (the damage it could cause to others) and the aircraft itself.
The aircraft liability insurance covers:-
Personal injuries

Material damages
Aircraft liability insurance is governed by several factors including:-
Weight of the aircraft

Number of passenger seats

Pilot experience

The sum insured
The sum insured is of vital importance as an aircraft can cause unlimited damage to persons and property in an accident. This level will depend on the type of aircraft and how it is to be used. Freight-Cargo-Passenger-Tours-Tourism-Business & Pleasure
The aircraft-hull insurance in Spain covers:-
Fire

Hail and storm

Robbery and vandalism

Crash landing, etc.
This covers the value or replacement value or repair of the aircraft in the event of a partial or total loss including recovery costs.
Each quotation is of a specific nature and we will require some specifics to be able to provide a quotation for Aircraft Insurance in Spain.
Please contact one of our Aviation Insurance representatives on 0034 965275727 for further information.
Copyright Plegasus Europe SL. All rights reserved. Updated February 2021