LOBSTER MOBILE SIM CARDS - THE ALL ENGLISH MOBILE NETWORK IN SPAIN
LOBSTER MOBILE SPAIN – IN ENGLISH
THE ALL ENGLISH MOBILE PHONE NETWORK IN SPAIN - SIM PACKAGES FROM LOBSTER FOR EXPATS .
THE ALL ENGLISH MOBILE NETWORK IN SPAIN AND EUROPE

CALL 965 756 724 NOW!
Give Lobster Mobile a go! Lobster are Spain's only "ALL in English Mobile Network" and as a SIM only 4G service, it is really easy to use. No long term commitments or fixed contracts, and you can get all your bills in English. Take out a plan and pay absolutely nothing for the first month, (subject to offers at the time) so you get all your calls, texts and data free. If you're not fully satisfied, just cancel your package. No quibble.
KEEP YOUR EXISTING SPANISH TELEPHONE NUMBER.
Just Let us know and Lobster Mobile will automatically transfer it for you. It usually takes 24 hours and then your good to go. You will be notified as soon as the transfer of your Spanish telephone number has been done.
PICK YOUR 4G LOBSTER MOBILE PLAN NOW!
LOBSTER MOBILE PLANS AND SIM CARDS IN SPAIN.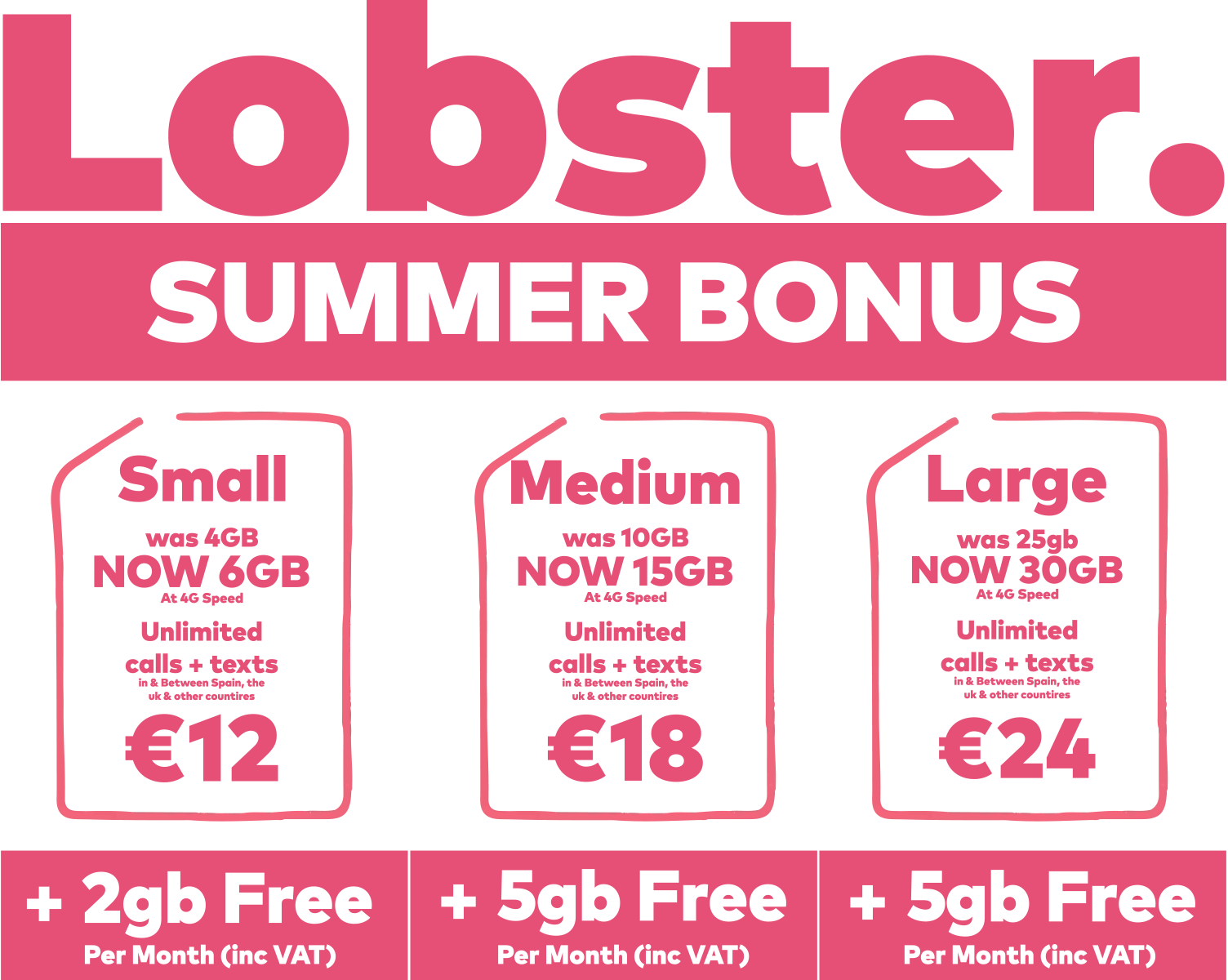 Contract a Lobster Mobile Sim Card in Spain.
Call 965756724
AND WE WILL DO IT ALL FOR YOU.
GET FREE LOBSTER CHIPS!
Yes! your Lobster mobile phone SIM Card chip is free, and you can collect it from our offices in Benitachell. Alternatively - if you can't collect, we can post it directly to you. Just call 965756724 to register or sign up and we will call you and set it all up over the Phone.
Just choose a Lobster Mobile SIM Plan that suits you. You can change the Lobster Plan to a bigger or smaller one any time you like, and get all the support and help you need in English.
GET FREE CALLS AND TEXTS ON YOUR MOBILE WITH LOBSTER.
You get unlimited calls and texts in and between Spain and the UK and other countries plus amazing data deals.
TOTAL FLEXIBILITY WITH LOBSTER MOBILE.
Change your plan, park your number whilst away, or leave any time. There is no hidden small print, so no commitments or surprises. At www.insuranceinspain.com our staff have tried and tested their sim cards, their technical and support networks and we are prod to be associated with a company that has finally come up with a great solution to the age old problem of Spanish networks.
CALLING OUTSIDE SPAIN WITH LOBSTER.
Even when you are outside Spain, you can still use your Lobster unlimited calls and Lobster texts in most European Countries, and you can use your Lobster data too. If you need more data just upgrade your plan for as long as you need. These mobile phone SIM cards are great for tourists as you get the same deal wherever you are and gives you as much data as you need. Beats pre-paid SIM cards.
UNLIMITED CALLS AND TEXTS WITH LOBSTER MOBILE OUTSIDE SPAIN.
BECOME AND AGENT FOR LOBSTER MOBILE.
We are always looking for people who are interested in working from home and supporting English mobile phone networks in Spain. Get in touch with us and we will take you through our simple sign up procedure and help you earn extra cash from Home.
THANK YOU FOR LOOKING.