BEST HOLIDAY HOME INSURANCE IN SPAIN - IN ENGLISH

HOLIDAY HOME, LANDLORD'S & RENTERS INSURANCE IN SPAIN IN ENGLISH FOR EXPATS.
FULLY COMPREHENSIVE INSURANCE FOR HOLIDAY OR RENTAL HOMES IN SPAIN.
Owning a holiday home in Spain is often a dream come true for many Expats and protecting your holiday home, is paramount. Nearly 45% of properties in Spain are not insured.
As a holiday home in Spain is by its nature, a place you may only visit when time allows, or when you have a vacation, you will have many concerns about the property, like how to keep it safe and secure when you are not there. All of our Holiday home isurance policies are in English and come with the 24/7, 365 day a year emergency call out service.
As a hoiday hoe owner you will know that this is what is really needed on an inssurance policy. If you have any damages, water leaks, broken windows, that require emergency attention, it means that the insurance company will arrange for emergency repairs to be done and your property secured.
THE IMPORTANCE OF HAVING HOLIDAY HOME INSURANCE IN SPAIN.
Your holiday home is going to be subject to many types of risks, especially when you are not there to sort it out, such as theft, damage by weather and storms, water leaks, fire, vandalism and a variety of other issues that requires your immediate attention.
LANDLORD, RENTAL AND LETTING INSURANCE IN SPAIN.
A holiday home can also be rented or let for additional income and this brings many other challenges to the property owners or landlords. Landlord insurance in Spain, letting insurance in Spain and rental insurance in Spain are all very similar holiday home insurance policies that we can provide in English, to protect you against unforeseen risks.

HOW TO PROTECT YOUR HOLIDAY HOME IN SPAIN.
The obvious answer is to contract a Holiday home insurance by www.insuranceinspain.com in English. For a small premium you can insure against all types of deliberate, accidental or unknown risks to your property and protect one of your most valuable assets against unforeseen or catastrophic risks.
HOLIDAY HOME INSURANCE CONSIDERATIONS IN SPAIN.
Many online insurers are based in the UK and don't fully understand the weather, climate, local conditions or processes in Spain when it comes to dealing with a claim or other form of property litigation.
Getting attention to your property whilst you are not there is paramount in the event of a major issue. Many don't speak Spanish and dealing with claims from a UK based insurance provider is not the best way to protect your assets.
At www.insuranceinspain.com we have fully qualified English and Spanish speaking holiday home insurance specialists that deal with claims on a regular basis and who know what happens in Spain when it comes to dealing with holiday home insurance in Spain – we don't have call centres, we deal directly on a personal, one to one level in English with our clients and keep you updated on progress.
MANDATORY BANK INSURANCE FOR MORTGAGES AND LOANS IN SPAIN.
In the past, Spanish Banks have tried to make their own clients that have a mortgage and loan with them, take out their own insurances as part of the mortgage. Not only are these bank policies inferior, but often the banks rarely have the expertise and knowledge to provide the right cover for you.
All they are interested in is protecting their own interests. The bank premiums are also considerably higher for less cover. Banks will often try and trap you into taking their own insurance products by threatening to add an addition ½ to 1% on to your mortgage interest if you don't. This is completely illegal and should be reported to the local authorities.
Holiday Home - Unoccupied and Lettings insurance cover.
Holiday homes in Spain can often be left vacant for long periods of time or you may just not have the time to make that all important visit. You may have the flexibility to rent or let your holiday home in Spain, directly or through a letting agency or using an online letting agency service such as airbnb.com
Public liability for rental property in Spain.
Public liability insurance in Spain provides you with a variety of protections in the event that a guest or a member of the public suffers a personal accident or injury whilst in your property or whilst renting your property in Spain. You could be liable for any injuries or accidents and any legal liability if you do not have the correct insurance cover.
First time holiday homebuyers in Spain.
If you are a first time buyer there are many obstacles to overcome, not just the move, but all the practical and administrative stuff. That's why we have specialists that will talk to you in English, provide you with English documentation and go through the types of cover available and the best form of cover to suit your needs. Get it right at the start and save money on your insurance, get peace of mind, and know that you are covered properly.
Community Property or urbanisation insurance for rental properties in Spain.
If your property is part of a community or an urbanisation whereby you pay fees for the upkeep and maintenance of certain parts of the community, often known as community fees, then the likelihood is that the community administrators will have some sort of insurance to cover the grounds for damages, liabilities etc. It would always be worth requesting a copy of that cover as this could save you money if some of the cover you need is incorporated in their community insurance policy.
Not just Holiday home insurance.
It doesn't end there. www.insuranceinspain.com will keep you posted on new or better cover that may be available for holiday homes in Spain, make sure you are advised of your renewal premium long before the due date to make sure you have continuous insurance coverage.
Dangerous Dog Insurance Cover.
A dangerous dog in Spain is any dog that is on the dangerous dog list. This can be any dog that has had the propensity to bite anyone or dogs over 20kg in weight. Some insurance companies will provide, inclusive on the policy, cover for a dangerous dog if you have one.
Holiday Home insurance claims.
We take care of all your claims needs and handle any catastrophic claims that may need to be referred to the Concortio. The Concortio is a government body that deals with claims that have been caused from an "act of God" or catastrophic event such as earthquakes and floods.
Whatever claim you wish to make, our staff will help and guide you through the process, follow up on getting the claim paid and advising you of progress along the way with regular updates.
Buildings Insurance in Spain.
Buildings insurance for holiday homes or rental properties is just that. It covers the building and structure of your property – which can also include outbuildings etc., against things such as Earthquake, Flood, Fire and Storm damage.
If you have a loan or mortgage with a Spanish bank, Buildings insurance will be compulsory. Bank insurance is often expensive and does not, as a rule, offer you much cover. All the Spanish Banks are interested in is protecting the property against liabilities such as floods, so that the bank's assets and the money they have lent to you, is protected.
Most people believe that the buildings insurance in Spain cover the actual market price you have paid to buy the property, not so. The buildings insurance should be based on the actual cost of rebuilding the property including demolishing and clearing costs of the existing property if it is completely destroyed.
Your Mortgage or loan agreement will usually state what they think the rebuild costs of the property may be at the time of purchase. You may have used a lawyer or surveyor at the time of purchase and they would also be able to give you a rebuild cost.
For insurance purposes, we use a rebuilding calculator to calculate the correct rebuilding costs, which can vary from region to region and we can talk you through this when you ask for a quote.
Contents insurance for Holiday Homes in Spain.
As the name implies, contents insurance is all about insuring the things inside your property as well as outside. Be aware that most Spanish Insurance companies consider Kitchens as part of the contents of the property. This is because they consider them to be removable, replaceable items. Therefore when calculating the cost of replacing your contents, add the costs of replacing the kitchen to the list.
Items such a pushbikes, golf carts and golfing equipment, swimming pools and dangerous dogs can all be covered and it is important to let your insurance agent or broker know exactly what you need.
Calculating the value of your contents insurance.
The best way to calculate your contents, as it is important to get it right, is to go from room to room and write down a list of the bigger items, such as beds and mattresses, curtains, wardrobes, bedding, etc., and then calculate what it would cost, in Spain, to replace it. You will be shocked as to the actual value – most people are when it is done properly.
Under and over insuring your holiday home for buildings or contents insurance.
You would rather over insure than not insure for enough? Right? No, it is not a guessing game and it is important to get it right. If your contents would cost €50,000 to insure, then that is the contents value to insure.
If you were to be cautious and insure your contents for say €75,000, you would be over insuring your contents by 50%. (€25,000 based on the actual €50,000 of contents value is an increase of 50%). This can have a serious knock on effect in the event of a big claim. Over insuring by 50% can reduce your pay out by 50%!
Combining buildings and contents insurance for a holiday home in Spain.
Buildings and contents can be insured as a combined policy and is usually the best way to keep your premiums down. Some people may have holiday lets that do not cover the contents of the property because no contents or furniture are included in the rental. Remember though, most of unfurnished rentals do have kitchens, and removable fittings, so consider a small contents insurance to cover these and have it added on to the buildings insurance.
Unoccupied Holiday Home Insurance in Spain.
It's a holiday home and as you would expect, you're not living there all the time and if the property is a rental property, it might not be rented all the time either. Unoccupied properties are at higher risk from burglaries and theft, vandalism, burst water pipes and other hazards, so it is important to ensure your property is covered for periods long enough to cope with unoccupied periods.
New for Old Insurance in Spain.
In most cases, this is insurance that replaces your old damaged items for new ones without the need to pay the difference.
Loss of rental income on Holiday homes in Spain.
If you are using your holiday home as a rental property for private guests or through one of the many online rental portals to supplement your income, loss of rental income can be covered in the event that the property is damaged in some way as to be uninhabitable.
You may be ale to claim back the loss of rental income during the periods taken to effect the repairs.
Accidental insurance for Holiday homes in Spain.
Accidental insurance for Holiday homes and rental properties is available and premiums will be calculated on the items you want to cover and the location of the property. Insurance companies in Spain use algorithms to calculate the risks for each area, as some areas are at higher risk than others and hence require an additional premium.
Security features on your holiday home in Spain.
One can reduce your insurance premium for your holiday home in Spain if you have additional securities such as a five point locking system on your doors, windoews or double glazing with roller shitters, Rejas (metal bars on windows and doors) Alarm systems, Surveillance cameras Motion detectors and the like.
Many properties have inbuilt security features such a Riejas, and if you are buying a new property or having one purpose built, consider installation of multipoint locks on all the doors. Patio doors are a particular issue when it comes to suitable locking and security systems.
All risks insurance for jewellery and valuable items.
All risks insurance is possible for the duration of your stay but is not likely to be covered in the event of the holiday home being unoccupied for any lengthy period of time. For all risks insurance including jewellery, you will require a suitable safe, adequate security for the property and a detailed list and possible valuations for the items to be covered.
Accidental damage insurance cover for a holiday home.
Accidental damage insurance cover for your holiday home in Spain is recommended if you are likely to have paying or visiting guests or if you have valuable contents, works of art, or just sentimental items of value. This insurance will cover you if you or your guests accidentally ruin a carpet or damage an item of value in your property.
24/7/365 Emergency repairs to Holiday homes in Spain.
24 hour 365 days a year emergency home call out cover is one of the most important parts of any insurance for your holiday home. What do you do if your neighbours, who are kindly keeping an eye on your property whilst you are not there, call you about an emergency burst pipe or a flooding issue or blocked pipes, whereby emergency repairs are needed?
You need that piece of mind knowing that the insurance company will go to your house, assess the damage, make emergency repairs and then arrange for the complete repairs to be carried out whilst you are away.
That's the way we offer our holiday home insurance to our clients. We want you to rest easy in the knowledge that any emergency repairs will be taken care of.
Leaking water pipes and high water bills.
Our insurance will cover you in the event that you have a leaking water pipe and this is only discovered once you have received the bill.
This is limited up to a maximum of €2,000 whereby the insurance company, upon notification of a very high water bill, which you suspect is due to a leaking pipe underground, will send someone to find the leak, repair it and any associated damage, and then pay your water bill for losses you have incurred.
Cancelling Holiday Home insurance in Spain.
Insurance in Spain is not the same as it is in the UK and you must take care to insure your assets carefully. Cancelling a policy is not as simple as letting it lapse and not paying the premium. Leaving it to the last minute and making a phone call to cancel the insurance policy is not permitted either.
To cancel any form of property insurance in Spain you need to give at least 2 months notice. Failure to do so will result in some insurance companies taking you to court to collect the next year's premium.
Index Linked Insurance policies.
Index linking means that the insurance company will increase the covers on your property insurance in Spain, each year to a special index. If this index goes up, your cover, and your premium can go up.
Always notify the insurance Agent or Broker you are using if you make any alterations to the property, which may increase its value, or increases the value of your contents during the year.
Insurance premium Easy Payment options.
On top of all this fantastic insurance cover for holiday homes, they offer you the option to pay quarterly or half yearly, spreading your payments as long as it is by direct debit through a Spanish bank.
May we wish you happy holidays and if you need any advice, about holiday home insurance or any other form of insurance, as we cover just about anything and without any obligation, please call us on 965 27 57 27 or request a call back from our contact us page.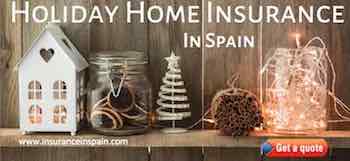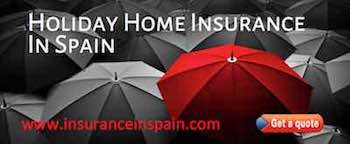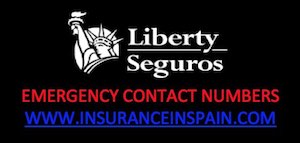 Copyright Plegasus Europe SL. All rights reserved. Updated February 2021