Quad Buggy and 4x4 Insurance in Spain.
QUAD INSURANCE IN SPAIN - IN ENGLISH
INSURANCE FOR QUADS AND ALL OFF-ROAD VEHICLES IN SPAIN

QUAD INSURANCE IN SPAIN MADE EASY.
Quads are a lot of fun but can also be very dangerous with thousands of injuries recorded each year. Many Expats buy and use them in Spain. Within your own boundaries, used on a farm or out on the road these vehicles all require insurance.
www.insuranceinspain.com can provide you with insurance for Quads used in Spain, so please contact us with your specific requirements and we will source an insurance quote for you.
Spain has 17 Autonomous regions where the laws and legal requirements regarding the riding of quads may and does vary from region to region. Our advice is to check with your local town hall and ask for the specific regulations regarding the use and licensing of your Quad, or visit a Gestoria or legal office to ensure that you are not breaking the law. The information below is given as general information only.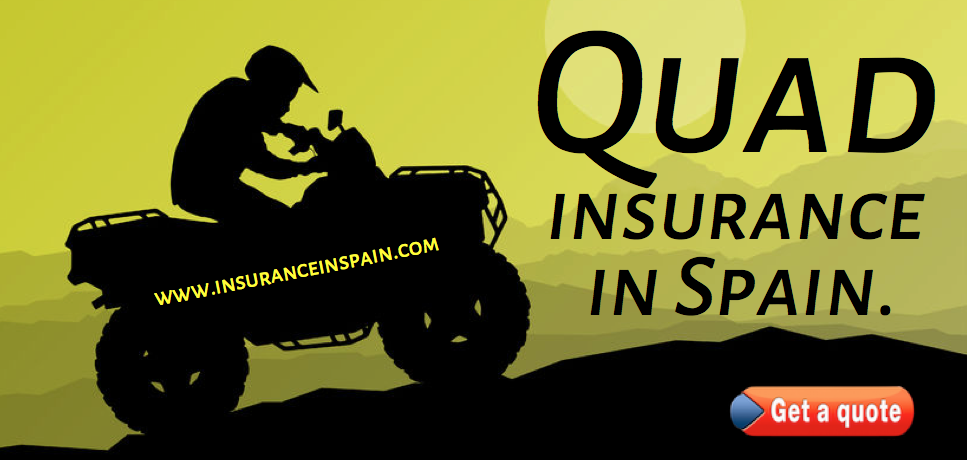 As with all vehicles on the road of this nature crash helmets, lights, indicators, number plates, a valid ITV (MOT) and insurance is mandatory. If you are riding a quad without any of the above or a valid driving licence, the chances are that the quad will be impounded and you are not likely to get it back.
The Spanish law for riding quads changed in 2010 and you now need to be at least 15 years of age and hold an AM licence, which includes taking a theory test and a closed circuit test. This licence will allow you to drive scooters and mopeds or quads up to 50 cc.
On a car licence you can drive a quad up to 550 kg or approximately 30 hp. Spanish quads will display the normal black and white number plate if the engine capacity falls into this category.
Insurance for Agricultural Quads in Spain.
If the quad has a red and white number plate, these are classified as agricultural vehicles and you are permitted to drive any size or cc you wish. You must also display the 45 kmph bumper sticker on the back of the vehicle as they are supposed to be restricted to a maximum speed of 45 kmph on the roads and are for single occupancy only.
Licences for Quads in Spain.
To drive motorcycles, scooters or quads up to 125cc you need an A1 licence and be at least 16 years of age. You will need to take a theory test, a closed circuit test and an open road test for this licence.
If you have held a car licence for 3 years or what is commonly known as a B licence in Spain, then your A1 licence is included as part of your B (car) licence.
The new A2 category licence permits you to drive anything up to (35kw) 500cc. You will need to be at least 18 years old and to obtain this A2 licence take a theory test, closed circuit test and an open road test.
If you have held an A1 licence for 2 years, or have a B (car) licence that you have had for 3 years and you are at least 21 years old, this will also allow you to drive anything up to 500cc.
To ride any thing over 500cc you will need to have held the A2 licence for a minimum of 2 years and be at least 20 years old and you will have to take another theory, practical and open road test.
Using a British Driving Licence in Spain.
If you hold current British driving licence, you will need to trade it in for a Spanish driving licence to be able to take the A2 licence. In my view it is far easier to do your full motorcycle test in the UK if you have a British driving licence and then ¨trade in¨ your British driving licence. Your full motorcycle licence will then be registered on your Spanish driving licence saving you the trouble of having to take the theory tests etc. in Spanish.
Links to Adventure Centers in Spain.
(These have now been removed - see why!)
www.insuranceinspain.com conducted a small survey and asked quad adventure centers to provide copies of their insurance cover so that we could check that you- the renter of the quads, would be adequately covered. See our blog post HERE. Amazingly, only one was willing to provide sight of their policy without any issues. Read the blog to see how we were fobbed off with loads of excuses.!! So we have decided that we do not want to provide links to Adventure Sports companies in Spain here any more unless they can prove they have adequate cover to protect their users.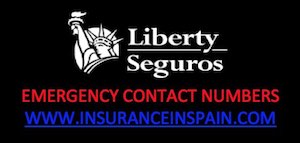 Copyright Plegasus Europe SL. All rights reserved. Updated February 2021