Jet Ski, boat, marine and watercraft Insurance in Spain
JET SKI & RIDER INSURANCE IN SPAIN
THE ESSENTIAL JET SKI INSURANCE FOR YOU AND YOUR PASSENGER IN SPAIN & EUROPE

Jet Ski's and watercraft Insurance in Spain.
A jet ski or Moto Aquatica as they are known in Spain, are very common on our waterways. They are very popular and many marinas and boat rental or hire firms do rent them out to the tourists during the summer season. These are very powerful, expensive, watercraft and can be extremely dangerous in the hands of an inexperienced driver.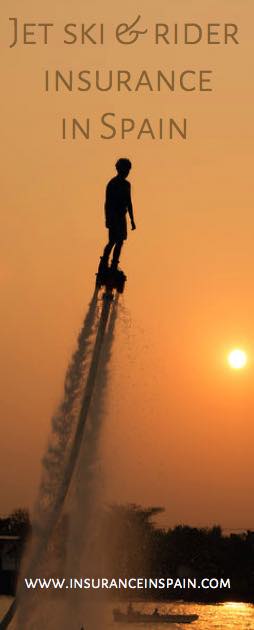 A valid jet ski licence is required. Spanish jet ski licences can be obtained from local marine clubs or jet ski centres and you will need to be at least 18 years old and take a theory test in Spanish and a full practical test. The Spanish jet ski licence is believed to cost approx 450.00€.
Alternatively a British Jet Ski licence via the RYA (Royal Yachting Association) can also be obtained in Spain from accredited RYA centres along the Costas, see list below, and these tend to be considerably cheaper and the licence is also valid in Spain. It usually constitutes a half day course and simple theory test and costs between 250.00€ to 300.00€.
Available jet ski licences and courses are available from the following :-
If you offer RYA courses or Jet ski licences in Spain, please let us know and we will add your link to the list free of charge.
Fully Comprehensive Jet Ski insurance is NOT available, in the sense that you cannot claim for damages to your own vessel, however caused unless it is a total loss as a result of a maritime event.
Public liability insurance
This is essential so that you covered in the event that you have an accident, cause a collision or injure someone else.
You are required to wear a proper, certified jet ski life jacket at all times. These are usually the ones with the neck support, but do check with your local marina or areas where you will be using the jet ski.
You must carry your jet ski licence and a copy of your legal proof of ID documents, insurance documents, including proof of paying the insurance premium, in the jet ski, in case you get stopped.
Hire firms that rent out jet skis from Marinas should carry full insurances for your use if you are renting one but do ask to see it before you venture out on the water.
You must be at least 18 years of age or 16 with the written consent from a parent or guardian.
The jet Ski must have valid registration documents, either Spanish or SSR (small ships registration) from the UK and this is acceptable for insurance purposes.
Navigation rules:-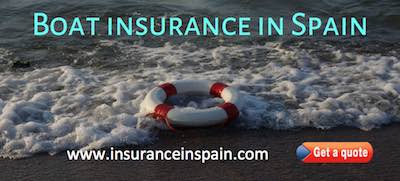 Keep your Jet Ski away from the yellow buoys and don't enter these zones. The yellow marker zones are areas where all water craft are excluded and are for swimmers only. Where there are no marker buoys keep 200 meters from shore. If you have to enter a swim zone in an emergency, enter at a speed of a maximum of 3 knots and follow a path perpendicular to the shore.
Keep out of accessible caves, as many coastal regions have now banned the use of any watercraft in them.
Only use your Jet Skis in daylight hours. Towing of water toys is prohibited.
It is forbidden to navigate in commercial ports and marinas except to go straight out to sea and a maximum speed of 4 knots applies.
Spanish coastal locations have a 300 meter rule from any coastline and 150 meters from any other vessel.
Safety precautions.
Always make sure you have a minimum of a 1 Litre bottle of fresh drinking water on board. Temperatures in Spain can exceed 40 degrees in the summer and dehydration, if you are stuck offshore without any water it can soon become a serious and dangerous risk.
Keep a minimum distance of at least 50 meters from any other vessel.
Don't drink and drive, or drive under the influence of drugs.
Try and avoid the use of channels, anchorages or areas where there are high concentrations of vessels.
Be safe and always try and take your mobile phone in a waterproof container in case of emergency.
Need a Jet Ski Licence in Spain?
Then look no further. www.insuranceinspain.com have teamed up with Sea School Costa Blanca - an approved RYA (Royal Yachting Association) instructor and examiner. Sea School Costa Blanca can provide the training and experience needed to qualify for a Boating licence for all types of watercraft in Spain. Based in the fabulous bay of Altea, this idylic setting is a superb opportunity to get your boat licences done in no time at all.

For more information visit their facbook page - Click Here.
Copyright Plegasus Europe SL. All rights reserved. Updated February 2021