Liberty Insurance quote for Expats in Spain in English
LIBERTY INSURANCE - SEGUROS IN SPAIN

LIBERTY EXPATRIATES - A SPANISH INSURANCE COMPANY IN SPAIN.
Liberty Expatriates is a division of Liberty Seguros that specialises in all types of insurance products aimed at foreigners or Expats that have moved to Spain, are working or retired or just have holiday homes in Spain.
Liberty Expats is an entirely separate division of Liberty Seguros in Spain, with insurance professionals that speak most of the Foreign languages in Spain. The contracting of Liberty insurance Policies in Spain is mainly left to their network of insurance agents and brokers that are based in private, individual offices all over the Iberian Peninsula including the Balearic Islands.
Most of the liberty Seguros Agents operate on a tied insurance agency basis and are required to take exams to qualify for an agency and be able to provide a minimal number of policies in any given year. As many Liberty Insurance agents will attest, Liberty Seguros are one of the best Spanish insurance companies offering excellent, Expat insurance policies in a host of languages.
QUALITY INSURANCE PRODUCTS IN ENGLISH FROM LIBERTY SEGUROS IN SPAIN.
As far as the British contingent living is Spain is concerned, Liberty Seguros in Spain do liaise with their insurance agents to better improve the cover and scope of their insurance policies. We have regular conferences to discuss improvements and put forward our views on how best to serve the Expat community in Spain.
AUTO – CAR INSURANCE WITH LIBERTY INSURANCE.
Getting a car insurance quote from Liberty Insurance in Spain is easy. Just CONTACT US or request a call back, and we will find you the most suitable car insurance quote to suit your needs in English. Liberty Seguros's expat division are very competitive on prices, and unlike most other Spanish insurance companies in Spain, like Caser Expat Insurance, that are trying to compete with them, Liberty will offer coverage for most types of vehicles including classic and vintage cars, camper vans, Suv's, quads and English Registered cars.
CASH BACK ON INSURANCE WITH LIBERTY SEGUROS.
Liberty have long established the insurance Cash Back Scheme. Others like Linea Directa are now copying their incentives, and as most Expats have found out to their cost, Linea Directa are not interested in offering a personal service.
Liberty Seguros Expat Division have designed these Insurance Cash Back offers as an incentive for their existing and new clients to be given this as a loyalty discount.
Many people looking to get some form of insurance often look for the cheapest price in the marketplace. Although you may think this is the right thing to do, it can cost you dearly.
Cash backs always help and by adding additional policies with Liberty Seguros in Spain, such as your house and car policies, additional discounts, along with the cash backs will reduce your premiums.
LIBERTY LIFE INSURANCE IN SPAIN – IN ENGLISH
An excellent life insurance policy if you are living in Spain. Like all Life insurance in Spain, the premiums do go up each year and the earlier you start your life insurance the cheaper it is. Most policies are term policies and run for a fixed number of years that can be extended if required.
Unfortunately. no Spanish Insurance companies offer Whole of Life insurance policies that continue automatically until the day you die, regardless of age.
LIBERTY HOUSE & HOME INSURANCE IN SPAIN.
Liberty Seguros are well known for their fabulous Home and House insurance package. The Liberty Basic home insurance keeps the premiums low and gives you all, what we would call, the essential insurance covers.
HOME INSURANCE ADD-ONS WITH LIBERTY INSURANCE IN SPAIN.
Liberty home insurance comes with a quality 24 hour, 365 days a year emergency call out service. If you have a burst pipe, broken window, have been burgled or have any emergency, you can call their helpline from a list of Emergency call out telephone numbers, night or day.
The emergency call-out service will also attend to an emergency even if you are not at the property at the time and make the property safe and carry out the necessary emergency repairs.
LIBERTY LANDLORD AND RENTERS INSURANCE IN SPAIN.
Owning a property in Spain that you rent out to people you don't know, carries certain risks. To mitigate those risks, liberty Seguros have designed a specific house rental insurance policy in Spain to protect you from such things as loss of income, if your client defaults on the agreement. Legal fees for taking them to court and getting them out of your property, property damage and a host of other inclusions related to property rentals in Spain. The 24/7 - 365 day a year emergency call- out service can be used by your client to get emergency repairs done, even if you are not there.
LIBERTY PET INSURANCE IN SPAIN.
Not the best of products in the Liberty Seguros Expat range. We found this to be far too complex, with lots of terms and conditions and lots of small print, and when making claims, can be rather laborious. Whether that is intended to make you give up making smaller claims is yet to be seen.
There are much better alternatives if you are looking for pet insurance in Spain, so contact us for details.
LIBERTY LIFE INSURANCE IN SPAIN.
Life Insurance with Liberty Insurance in Spain can cover you for the repatriation of your body to your home country. Cover starts from the receipt of the first life insurance premium and a series of options such as payment or income for total or permanent disability are available.
Minimum age is 14 with 70 being the oldest age to start a life insurance policy. Upon production of the death certificate Liberty Seguros will advance 10% of the sum insured for death, up to a maximum of €3,000 to help cover your initial burial costs.
COMMERCIAL & BUSINESS INSURANCE WITH LIBERTY INSURANCE.
Business and commercial insurance in spain covers such things as fire and theft, flooding and all the usual things including loss of income, goods insured, and one of the more important covers is the liability insurance in Spain.
LIBERTY PERSONAL ACCIDENT AND INJURY INSURANCE.
Personal accident and injury insurance does provide cover at work or at home for any accidents that might occur. They also insure you in the event that you are injured in any traffic accident, as a driver or passenger, or even if you, as a pedestrian are injured in an accident in any form of transport such as buses and trains. Your family will also receive a monthly income in the event of your death.
LIBERTY BOAT & MARINE INSURANCE IN SPAIN.
With Spain being virtually and island, it is no surprise that boating is one of the most popular pastimes. Liberty Boat insurance provides for the mandatory civil liability insurance, material damage and economic loss and public liability insurance in the event that others are injured.
Damage to the boat itself, hull, engines, seats, sails, masts, auxiliary craft, personal belongings and trailers. You can also claim for damages caused by third parties to the insured boat or to any of the occupants. Total loss of the boat by theft of the boat and it will also cover for the removal/recovery of the wreckage.
LIBERTY COMMUNITY INSURANCE IN SPAIN.
The Liberty Community insurance policy covers fire, smoke, vandalism, electrical faults, natural disasters, flooding, underground pipes, theft, robbery and damages, demolition and debris clear up costs, and a 24 - hour Community assistance for any claims.
Most of these Community insurance policies are tailor made for Urbanisations to ensure they cover what the client wants to protect and some of the options are things like broken windows, water damage, civil liability and bail, machinery damage, individual accidents, employee dishonesty and legal protection.
OTHER INSURANCE PRODUCTS IN SPAIN.
Liberty Seguros in Spain provide a good selection of insurance products for Expats. However they don't cover everything. At www.insuranceinspain.com we aim to be able to provide everyone with any type of insurance they need. We do work with many other Insurance Companies in Spain and within our networks through our Affiliate program.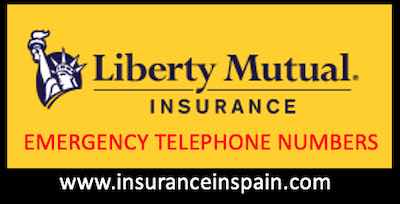 Copyright Plegasus Europe SL. All rights reserved. Updated February 2021