Trailer, towing, Caravan, horse box and towing Insurance in Spain
TRAILER & TOWING INSURANCE IN SPAIN.
GET A QUOTE FOR INSURING ANY TYPE OF TRAILER IN SPAIN.
Insurance for towing a trailer in Spain.
www.insuranceinspain.com can provide insurances for towing trailers. Whether it be a boat trailer, garden trailer, commercial trailer, horsebox, camping trailer tent, camping trailer, car transporter, or whatever you might be towing, we can provide this type of insurance for you in Spain.

At www.insuranceinspain.com we can provide insurance for towing a caravan or trailer behind your vehicle whether it is Spanish or English registered, up to a maximum load of 750kg FREE of charge, when you take out one of our Liberty Seguros Car Insurance policies. If your existing car insurance policy does not cover you to tow anything, then we can provide a bespoke cover to enable you to do so.

Trailers, caravans, horseboxes or whatever you decide to tow that are 750kg or over can also be covered under a separate policy.
Towing Trailers and the Law in Spain
Tow Bars (Spanish Registered Vehicles)

If you have a Spanish registered vehicle and it has not got a tow bar on it and you want one, don´t buy one and try to fit it yourself.
Any tow bar for any vehicle needs to be homologated (approved) by a specialist tow bar fitter in Spain. Therefore it is best, in the first instance, to go to the specialist tow bar supplier and get a price for both buying and fitting the tow bar. This is likely to be the cheapest option in the long run. They will supply and fit the tow bar and give you the required legal documents that will need to be taken to the ITV (M.O.T.) station. Once the tow bar is fitted and even if you have a valid ITV certificate for your Spanish registered car you will need to get the tow bar included.
To use the vehicle with the tow bar fitted, even if it has been fitted by a specialist tow bar centre in Spain and you have the documents to prove it, you will still need to take it to the ITV centre and have another vehicle ITV with the tow bar included. The ITV testing station will then provide you with a new ITV certificate with the ITV for the tow bar included. They may also replace your car registration documentation, as they will need to add the tow bar to the specifications of the vehicle.
A bit of a run around but once it is done you wont have any more issues. It may be prudent to plan the tow bar fitting just before your car or vehicle is due to have the ITV renewed.
Cautions
Be aware that if you have a Spanish registered vehicle it is not legal to tow foreign registered trailers. If you have a British registered boat on a British trailer, you are heading for trouble. If you have a Spanish registered trailer with a British registered boat on it, the towing aspect is not an issue as you have the craft on top of a legal trailer so it is permitted. Your load is not in question as long as it does not exceed the load capacity of the trailer.
Many Expats tow British registered boats on British made trailers with a Spanish trailer board depicting the Spanish vehicles registration number. You might get away with this for a while but the Guardia Civil and local police can and do recognise whether they are legal or not and check trailers regularly. Heavy fines and/or confiscation of the trailer are likely.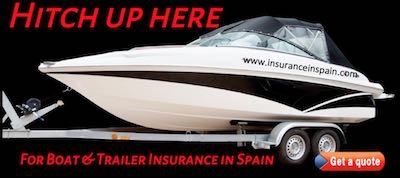 Importing a British Trailer
Anyone living in Spain and owning a boat or has attempted to import a trailer will tell you that this is a complicated and very expensive process. Don´t bother trying to do so. It is cheaper to buy a local trailer here with all the documentation supplied.
Many places actually make them and if you are looking for a specialist type of trailer, they can readily be made for you.
British Registered Vehicles, Tow Bars and Trailers in Spain.
If you have come to Spain with a British registered vehicle and trailer then you may be able to use it for the permitted period before the legal requirement to import them.
There are numerous rules, laws and taxes governing importing your vehicle and trailers and if you intend to do so as part of being a permanent resident in Spain then it is advisa
ble to consult a Gestor or lawyer in Spain before bringing it over. You are permitted to import certain items as part of your personal and household effects without incurring the importation taxes. This cannot be done once you have arrived. You will need to complete this process before you decide to bring it all over to Spain.
Spanish Trailers up to 750kg Loaded
This applies to trailers for personal use only, Not for any form of commercial trailer. All trailers for commercial use are treated as being over 750kg when loaded regardless of the actual loaded weight stated on the trailer.
Trailers with a loading of 750kg or less are not required to be registered but will have their own separate documentation, called the Ficha Technica and are required to hold a valid ITV certificate.
All trailers must have the manufacturers plate attached to the trailer, usually near the tow hitch.
They are not required to have their own insurance but we highly recommend that you do. In Spain most insurance companies will include cover for a trailer with loads of 750kg and under for free, as long as you advise them that you have a tow bar fitted to your car with all the relevant documentation and that the details are mentioned on your vehicles Ficha Tecnica.
Spanish Trailers Over 750kg Loaded
All Spanish trailers over 750kg are classified as commercial trailers and need to be independently registered, with their own documentation and are usually fitted with red number plates.
They must have a valid ITV certificate and display the registration number plate of the vehicle that is authorised to tow it, as well as the red trailer number plate.
These trailers will require their own insurance and at www.insuranceinspain.com we can arrange this for you. It can be cheaper to insure the vehicle and trailer together under the same insurance policy. The Insurance policy should also include breakdown recovery for the trailer as well as the vehicle, as recovering a car and trailer without the requisite insurance to do so will be extremely expensive, as you are not permitted to tow a broken down vehicle without a specialist breakdown recovery vehicle.
Road tax is payable and must show the manufacturers plate on the trailer.
Fines
Vehicles stopped by the local police, Guardia Civil or traffic police that do not comply with the law will receive heavy fines and may be impounded and stopped from proceeding with the journey. This will then incur collection charges by the Grua (breakdown recovery service) and additional fees for forward delivery, as well as storage costs at the impound. These can be very expensive if you are more than 120km from your destination. Insurance policies often have a limit of 120km for recovery of a vehicle, to enable them to take it to the nearest garage or place where the vehicle or trailer can be repaired.
Buying a Spanish Vehicle with a Tow Bar Already Fitted
When buying a second hand Spanish registered car with a tow bar already fitted it is best to ensure that you have the documentation for vehicle with the tow bar mentioned on the Ficha Tecnica and that you also have the homologation certificate.
If you are planning to buy a new Spanish vehicle with a tow bar already fitted the garage supplying the vehicle will provide you with the correct documentation and it should be included automatically on the Ficha Tecnica. Do check. They may have had the tow bar fitted by a legitimate fitter, as they do not fit them as standard from the showroom and may not have taken it to the ITV station to be homologated (approved) afterwards.
If in doubt, please give us a call on 965 27 57 27 as we will be happy to advise you on the requirements for insurance purposes for any trailer that you may wish to tow, whether it be for a British or Spanish registered vehicle. Thank you.
Copyright Plegasus Europe SL. All rights reserved. Updated February 2021