Insurance agents in Mallorca in English
INSURANCE IN MALLORCA
INSURANCE IN MALLORCA FOR CAR, HOUSE, HOLIDAY HOME, PET, LIFE, MARINE, AND JUST ABOUT ANYTHING YOU NEED INSURING.
WWW.INSURANCEINMALLORCA.COM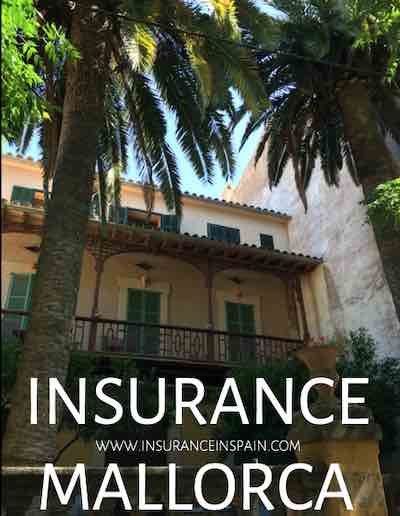 We provide Insurance products all over Spain and we are linked to, and affiliate with many existing Insurance Agencies and Insurance brokerages in the Area. We also offer Sub Agency status to a variety of other businesses such as Estate Agents in Spain, motor vehicle sales outlets and any businesses whereby the public might need insurance, such as marine or boat insurance for boat sales outlets and many other industries.
This is an additional source of income for insurance network partners and affiliates, whereby we share our commissions with you, but we do all the work.
www.insuranceinspain.com have already developed extensive Site Engine Optimisation for this area using www.insuranceinmallorca.com This domain name is for sale to the fortunate person that may be interested in partnering with us and we can guarantee that we can increase your existing insurance business in Mallorca by at least 30%.
Insurance in Mallorca.
No matter what type of insurance business in Mallorca you operate, we can improve that insurance business quite extensively. We have the knowledge and expertise to develop your business, beyond your dreams or current capacity.
Our Insurance network in Spain can provide insurance for just about anything. So, if you are a tied insurance Agent or Broker in the Mallorca area and find it difficult to locate a particular cover for a client's insurance request, then contact us. It doesn't matter what insurance Agency you are tied to as an exclusive Insurance Agent, we can place any other type of insurance for you. We do the admin, claims and renewals and you get paid just for sending us the insurance lead.
Insurance in Mallorca and the topographical areas covered by this Insurance Domain.
This network is designed to seek out as much insurance business as it can from a specific geographical area. With the assistance of a directly active domain name as a starting point, using our SEO experts and such things as social media, meta tags and key words, in association with specific targeting techniques, we can get this network on the front page of Google.
Mallorca or Majorca as it is often spelt, is one of the Balearic Islands in the Mediterranean. Like many places in Spain it has lots of sunshine, lovely sandy beaches and lots of touristy type things for tourists to do. The capital of Majorca is called Palma and the Island is reputed to have a population of about 900.000+.
So, insurance in Majorca would be quite an easy place to target.
Types of insurance for Mallorca – Majorca.
Insurance is promoted to the Expat population, with Insurance documents available in English. Tourism, and property insurance is the main stay of the insurance provided in Mallorca along with car insurance and holiday home insurance. As we provide the full range of insurance services, we can supply insurance on a one-off basis for specialised items such as businesses, liability insurance and just about anything you need insuring.
As an island, Insurance in Mallorca is a captive marketplace and strategic advertising will captivate a bigger slice of the marketplace.
Insurance when travelling to Mallorca-Majorca.
Most tourists tend to take out travel insurance when they leave their home country to go on their annual holidays, and we can offer a unique travel insurance based from Mallorca or their home country, These can be annual or multi trip policies that can cover all forms of water sports, skiing, mountaineering and can cover all of the more dangerous or risky sports that tourists might want to engage in. Our travel insurance can also cover pre-existing conditions.
Car, Motor and Auto insurance in Mallorca.
Most residents do have a motor vehicle and that will need insurance, and some enterprising travellers may bring their own cars to the island. British registered cars, Motorhomes, Caravans, Quads, 4 x 4's and SUV's, Motorcycles and Scooters (even scooters for hire) with young drivers in Mallorca can be insured for a full year, with an annual green card, and includes, as standard, a full breakdown and recovery insurance, valid anywhere in Europe.
Motorhome insurance as well as insurance for caravans and trailers, marine and boat insurance as well as jet skis and the likes of Classic and Vintage cars are easy to insure.
Financial Advisors in Mallorca.
Financial Advisors on Mallorca may not all be suitable for Expats, as with a limited marketplace, the experience may not be there. Our specially selected team of Financial Consultants and Advisors in Mallorca will even go to the client's home and provide a free, no obligation and confidential financial planning service. Get a will writing service and make sure that your inheritance and funeral planning is up to date.
House and Holiday home insurance in Mallorca.
Many Expats reside in Mallorca and have their own homes. All of these properties will need some form of insurance to protect their hard-earned assets. It's not just the house insurance cover that is important but the service we give them. Our house insurance offers 24 hour 365 days a year emergency call-out service even if the owner is not there.
Many options are available with our house insurance to include such things as all-risk's insurance, jewellery and artwork, personal accident and injury to name but a few. Contact us for more information.
Expats love the sun and there is plenty of that on Mallorca. Hence many chose to make their second homes or holiday homes in Mallorca. They spend lots of money on luxurious properties and this in turn helps the economy. Their Holiday homes need insuring and our Landlords Insurance and Renters insurance in Mallorca will protect them against such things as damages, vandalism and loss of earnings.
Buildings and Contents insurance Mallorca.
Not all people can afford to buy property in Mallorca, and so many people spend many months on holiday, renting apartments and villas suitable for Expats. Their contents and personal belongings need insuring, and our simple Expat buildings and contents insurance will provide protection from such things as accidental damage, all risks, and cover new for old.
Life insurance in Mallorca.
From a simple accidental injury policy to a term life insurance policy, anyone that needs a life insurance policy, whether it is to provide funds in the event of death, or to provide some form of mortgage protection, we will have the right insurance for you.
Pet Insurance in Mallorca.
Many people don't realise that they can now insure their pet anywhere in Europe with our sister company www.protectapet.eu. They were the first to provide pet insurance in Mallorca and are the leading pet healthcare provider in Spain. The pet insurance policy will cover any dog or cat of any age or breed, you have free choice to use any vet you like, and your premiums are fixed for life.
Protectapet provide the highest cover in Spain for the lowest premium and they take on any breed of dangerous dogs without any increase in premiums. Liability insurance for Dangerous dogs is also available as a stand-alone policy if you just wanted Liability insurance on its own.
Protectapet also offer Horse insurance that has a veterinary cover, and arrangements can be made for the Vet to come to you.
Health and Mediacal Insurance in Mallorca.
We all know that Health insurance cover is vital to Expats, on holiday or as residents. Just because they might live there does not entitle them to the National health System. For those that don't want or can't afford the full cover Health Insurance products, we do provide Health insurance in Mallorca to enable people to get their residencias, which is now compulsory.
Boat and Marine Insurance on Mallorca.
Mallorca is an island in the Mediterranean and thousands of people have boats and yachts to use as pleasure craft. Our Marine insurance can cover all types of craft from Dinghy's, Yachts, Passenger and Rental boats, Jet Skis and water sports such as water skiing and scuba diving for business or pleasure.
Business and Commercial Insurance Mallorca.
Like all places Cities or provinces in Spain, Mallorca, with Palma as its Capital, also has a large number of businesses that cater to the locals and to tourists. Most things need to be imported as it is an island, so we provide a full range of Commercial insurances, including Commercial Van and Vehicle insurance on Mallorca. Commercial premises insurance with cover for flooding, fire, theft, damages and such things as loss of earnings and employee liability.
Insurance for anything on Mallorca.
These are a few of the basic insurances that we can provide for Expats and Spanish residents on Mallorca. We do cover everything in between from aircraft and aviation insurance to Villa insurances. Take a look at our insurance services.
Thank you for taking the time to view this page and if there is anything in the Insurance world that you need help with, please contact us.
Copyright Plegasus Europe SL. All rights reserved. Updated February 2021