Cave House Insurance in Spain in English
CAVE HOUSE INSURANCE IN SPAIN

INSURING A CAVE HOUSE IN SPAIN.
CAVE HOUSES IN SPAIN.
If you own a cave house in Spain you are likely to be living in the Southern part of Spain. Cave houses are a little different from how they were back in the 15th and 16th centuries although the methodology has not changed. Some say that going back to our homo Sapien roots, by living in cave houses, has its advantages. Temperatures tend to stay constant inside the cave and this reduces the cost of heating and cooling.
INSURING A CAVE HOUSE (CASA DE CUEVAS) IN SPAIN.
Insurance for a cave house is similar to that of a conventional house in that you can, insure the building, or part of the mountain against subsidence, flood and acts of god. Any Claim on the property to do with any act of God classification would also be dealt with by what they call the Consortio in Spain. Contents insurance with all risks and jewellery cover is avaialble provided the right protections are in place.
INSURING THE CONTENTS OF A CAVE HOUSE IN SPAIN.
The best way to insure your contents of a cave house is to include the kitchen and bathrooms as part of the content value. Many of the Spanish insurance companies that insure property in Spain, believe that kitchens and bathrooms are classified as removables and therefore come under the contents of the property. Go from room to room and list the items of contents and work out roughly what it would cost to replace. Photographing each room at the time of making the calculation will help in the event of a claim.
You might be surprised at the amount you come to when you look at the replacement value and it is important to get this figure right. Better to have it right than to be over or under insured on the contents of a cave house.
ARE YOU LOOKING TO BUY OR SELL A CAVE HOUSE IN SPAIN?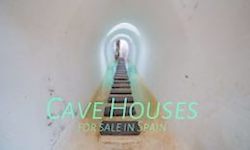 Then look no further! We highly recommend This Property Company in Spain if you are looking to buy or sell any property in Spain including cave houses. They are a free property portal that lets you advertise and promote your Cave house or any other property completely free of charge. An excellent site that gets our 5 star rating.
Copyright Plegasus Europe SL. All rights reserved. Updated February 2021