Cremation insurance and how to get the best deals in Spain
CREMATION INSURANCE IN SPAIN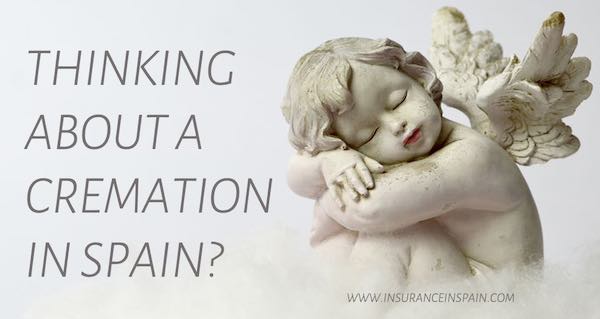 CHEAP CREMATIONS IN SPAIN.

PRE-PLANNING YOUR CREMATION IN SPAIN.
There are many elderly people that live alone in Spain, often through no fault of their own. When your kids have grown up and doing their own thing, perhaps in Spain or more often than not in another country, couples grow old together and enjoy the good life here. When one of the couple passes away, one is left to ponder on returning to the UK and spending the rest of your life in a cold, depressing country, or with family that have their own lives to lead and not have much time for you.
Many stay in Spain. Having been here for decades, the thought of returning to UK is daunting and is like starting all over again in a foriegn country, with family around. to some people this is essential as they are totally family based and will sacrifice anythign to be near them at the end.
For those that do stay in Spain, considerations need to be made as to whether you are going to be buried, or cremated here, or repatriated back to your home country. Many expatriates that have lived in Spain for decades and made it their permanent home may not have the funds for Pre-paid funeral plans or burial insurances, as these can be expensive and if they had that sort of money, would probably be better off leaving it in the bank or investing it to use as funds for their own funerals.
If you do live alone and have no family to worry about, the chances are that when you die, the state will provide a paupers burial, or use the sale of your assets to cover the costs of a cremation.
LEAVING YOUR BODY TO SCIENCE IN SPAIN.
Leaving your body to science in your will used to be a way of ensuring that your body was of use to the medical community. With so many people now requesting to leave their body to science, as there were no charges for the disposal of the remains afterwards, the State has changed things slightly. Once your body has been used by the medical community, they are returning the remains to the family for cremation or burial, so the costs of the burial or cremation are no longer covered by the state. Your body can lay in limbo for months and years before the medical fraternity get to use it for scientific or training purposes and then decides to return it to the remaining family for burial or cremation.
CHEAP CREMATIONS IN SPAIN.
Crematoriums in Spain will handle your cremation as is required by law and are the cheapest form of burial or disposal of the body. One can simply go to a crematorium and arrange for your own cremation in advance. You can sometimes negotiate the price and may well have to pay for it all in advance. Some do speak English but many don't and if the crematorium nearest you is the one you want to use, take an interpretor with you and sort it out.
There are the good, bad and ugly in this business, even in Spain and some crematoriums will and can add significant charges that can make the crematorium bill more than significant. That's fine if you can afford it. If not, and you want the basic cremation, and your ashes collected and scattered by family, you can achieve a relatively inexpensive send off.
In cases of Expat cremations, the crematoriums can often hold the body in their own mortuaries until such time as loved ones and family can arrange for their travel to Spain, or the body can be cremated and the ashes held for you. Alternatively, the crematorium can arrange the cremation in their own time, and call the next of kin or whoever is dealing with your creamtion to collect the ashes and sign the relevant documents when it has been completed. The ashes can then be scattered at your families convenience.
Family can be involved if you want the full regallia of flowers, service and a memorial, and if you have paid for it in advance they will not have the stress and worry as to who is going to be responsible for the costs involved. Your wishes will be handled with dignity.
PRE-PAID CREMATIONS AND SERVICES.
Bear in mind that should you move location, there may additional costs to transport your body to the crematorium so you will have to update details with that crematorium, and may have to pay an additional amount.
Our pre-paid cremation services can ensure that wherever you are in Spain, or the UK, you can be cremated at a local crematorium near you. The Cremation Service will ensure that all the documentation is taken care of and that the crematorium will collect your body and carry out your wishes. You can even elect to have your ashes scattered in a specific place.
REPATRIATION OF THE CREMATED REMAINS.
Ok, so you've been cremated but want your ashes scattered in the UK or somewhere outside of Spain. Transporting the ashes on an aircraft is quite easy to do as long as you heave a copy of the death certificate and the cremation certificate. Most airlines will let you take the ashes in your baggage or hand baggage as long as you "declare' the contents to the airline you are using and the remains are contained in a sealed leak-proof or watertight container.
THIS PAGE IS IN THE PROCESS OF BEING UPDATED - PLEASE CALL 0034 965275727 FOR MORE INFORMATION.
Copyright Plegasus Europe SL. All rights reserved. Updated February 2021