Funeral Plans in Spain for Expats in English
FUNERAL PLAN INSURANCE, FUNERAL PLANNING & CREMATION SERVICES IN SPAIN - IN ENGLISH.
COMPARE FUNERAL PLANS IN SPAIN.

Funeral Plans and cremations in Spain - a consideration.
Did you know that in Spain, Portugal, Canary Islands and Cyprus where many British citizens have chosen to have a home, if someone passes away at home, the process can be quick, but complicated? Under Spanish law for example, the Guardia Civil (the Police) must be called and then a doctor is contacted. The doctor issues a temporary certificate, after which the doctor or Police will contact the local funeral director to attend to the deceased.
The funeral director, who may not speak English, will ask for a "release form" to be signed without knowledge of expenses incurred, allowing the removal of the deceased. Unknowingly, your family could be charged overpriced fees, absurd extra costs, and most importantly, feel overly stressed and heartbroken that you have passed. At www.insuranceinspain.com we would like everybody to pre-plan their funeral arrangements with us, and then enjoy the rest of their lives (without worry).
Another option is to have a life insurance policy that provides you with sufficient funds to cover for any funeral considerations and in the event of the death of the insured person, additional funds for his/her beneficiaries.
Here are some more facts to consider:
• The average cost of a funeral has risen 88% in the last 10 years and is continuing to rise
• European procedures differ greatly than in the UK; most funerals take place within 48 hours
• If abroad, assets and cash may be frozen; creating difficulty to release funds
• Out of country funerals put a time pressure on your family and friends to pay their respects, not to mention language barriers and gaining knowledge of a very different funeral system.

Keep it simple, you know it can make sense to purchase a funeral plan in Spain. It is an excellent way to ensure that your Spouse and family have peace of mind should the worst happen. If you don't want to Pre-Pay for a funeral plan in Spain then talk to us as there are other options such as Life insurances that will pay out immediately, so that your relatives will have the money to pay for your funeral costs in Spain with a little extra left over.
Single Premium Funeral Plans in Spain.
If you are over 65 years old Liberty Seguros, one of Spain's leading insurers has introduced a single premium Funeral plan for Expats living, working or just retired in Spain. If you haven't got one yet then it's time to get this funeral business sorted out and take some of the stress, the hassle and worry out of organising your funeral. . They will guarantee a funeral service according to your local custom and arrange the necessary documents and paperwork relating to the insured's death. They also take care of any widow or orphan pension applicatin, death certificates and drafting of any legal documents.
Monthly payments are available for this product.
No health declaration required.
No health declaration is required to take out a single premium Liberty funeral insurance policy. No Excess applies and you are covered from the very first day.
What cover is included.
The Funeral Service.
The deceased transportation within Spain and repatriation from abroad for trips that were less than 90 days.

All procedures relating to the death with government entities.

Legal advice relating to the death of the insured.

Tailored cover so that you can add other specifics if required, so its quite flexible.

Some of these additonal optional covers are:-

travel assistance in case of serious illness or accidents for spanish residents, including trips abroad up to 90 days.

Open notarial will and living will, with the option of amending it on an annual basis.

International repatriation for expatriates living in Spain, including multilingual interpreting services.
Life is meant to be enjoyed, which is why Single Premium Funeral Plans by Liberty are designed for those who want to protect their loved ones from the financial burden and the bureaucracy related to the death of a family member.
Contact us for a personalised quote for a Single Premium Funeral Plan in Spain.
Avalon Funeral Plans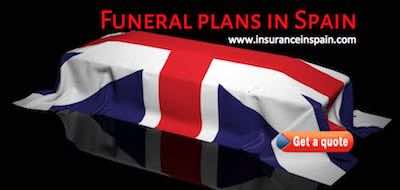 These funeral plans are from the market leaders in Spain with many years of experience in organising pre-paid funerals. They are operating in Spain autonomously with the UK regulated trust funds, providing security and peace of mind to clients who reside in the country.

With escalating funeral costs in Spain and the significant differences that exist between a funeral in Spain, compared to a funeral in the UK, having a pre paid Funeral Plan in Spain to organise your funeral is a sensible decision. Most funerals in Spain take place within 24 to 48 hours (of a person's death) and because of the different laws it can sometimes be difficult to release funds from your departed loved one because of their assets beings temporarily frozen.

There is also the language barrier to contend with and the additional complexities of the Spanish funeral system to navigate through. You can leave all these problems to us. By organising a pre-paid funeral through www.insuranceinspain.com you can rest assured that the funeral plan you contract will make all the necessary arrangements and deal with the Spanish authorities on your behalf. A home visit service is available where they can meet you in the comfort of your own home, guide you through the variety of pre-paid funeral plans that are available and give you the time to determine what would be best for you and your family.

All funeral plans in Spain are very similar in the fact that they offer base plans that sort out the legal and minimum requirements to get you buried or cremated in Spain. Like all funeral plans, they tend to be pre-paid funeral Plans so you do have to pay up front. Some offer payments in instalements - but if you die before the instalments are paid, your remaining relatives will have to cough up the balance of your funeral plan in Spain before they sort out your funeral.
D.I.Y Funeral Plans.
Something that people are missing out on when it comes to funeral planning in Spain. It is extremely easy to sort out your own funeral if you know what you want and where you want to be buried or cremated. If you are a long term resident of Spain and want to be cremated here, then it is a simple case of going to the crematorium in Spain and talking to the funeral director. Most do speak English and theyare very helpful. (After all- they are getting your business).
Save money on your Funeral Plan costs.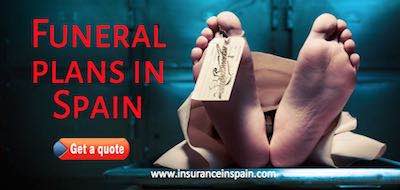 OK, so you want to keep the costs down on your funeral . By talking and making the arrangements with the funeral home in your local area, the funeral director will or may provide you with a funeral cost quotation and fix it for a period of say 5 years - depends on what, when and where, and what you are asking for. They will allow you to Pre-Pay your funeral plan so that your relatives can rest easy knowing that your funeral in spain is all taken care of. All they will have to do is to call the Funeral home or crematorium and they will make all the arrangements. After all-it's what all the ' Funeral Plan providers' will do.
Questions about Spanish Funeral Plans.
If you have any further questions or would like more details, please do not hesitate to call www.insuranceinspain.com on 0034 965 27 57 27. We want the best for you and can provide you with any information regarding these funeral plans in Spain. There is no obligation to buy and we are happy just to chat to you, provide you with relevent information and to ensure that you have the correct cover for your budget.
Copyright Plegasus Europe SL. All rights reserved. Updated February 2021