Funeral Plans Spain

Compare Funeral Plans in Spain for Expats

The most affordable funeral plans in Spain
WHAT IS A FUNERAL PLAN IN SPAIN?
A funeral plan is a plan to take care of a funeral in advance. With a funeral plan you can avoid any hidden or sudden costs, arrange the type of funeral you would like to make sure your wishes are carried out, and alleviate the heartache of your family having to cope with the emotional burden of trying to arrange things at the time of your death.
WHAT IS A PRE-PAID FUNERAL PLAN IN SPAIN?
Instead of receiving a lump sum payment upon your death, a pre-paid funeral plan is designed to take care of all the funeral planning, legal fees, documentation, funeral arrangements, and other costs such as doctors, funeral, homes, coffin, flowers etc. depending on the type of pre-paid funeral plan you have decided upon. As the name suggests, it is pre-paid so you must pay for it in full at today's prices. Buying a funeral plan now can save you a lot of money in the years to come as Funeral prices double approximately every 10 years.
GUARANTEED FUNERAL PLANS.
Our funeral plans are guaranteed as soon as you make the initial payment. Your payment is 100% secure as it is immediately transferred to a guaranteed trust fund for security.
A comparison of Funeral Plans in Spain.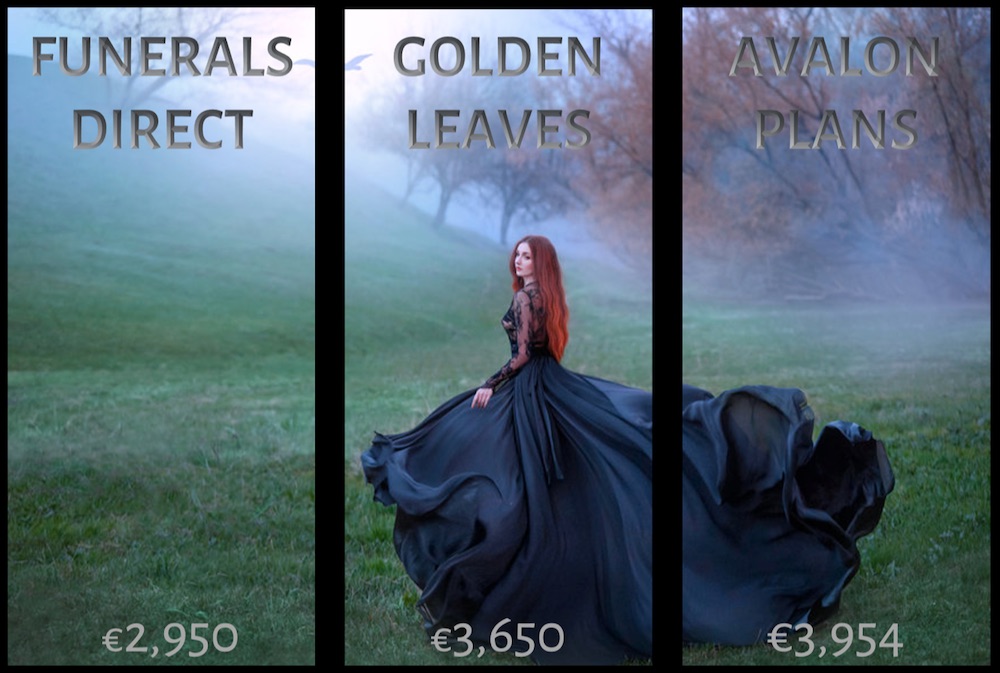 FUNERAL DIRECT PLANS
As you can see, the Funerals Direct Plan, is cheaper by far and has the same basic options as all of the other providers with some extras. The extras are a refund of 50% of your policy value after 15 years, The cheapest monthly payments, it is transferable to the UK and Funerals Direct are unique in the fact that we are the only company offering Point of Death Funeral Plans in Spain.
Pre-paid Funeral Plans for Expats in Spain.

Funerals Direct - what we offer.



CAN I PAY FOR MY FUNERAL PLAN IN INSTALMENTS?
Yes, Funerals Direct can offer you the option to pay, interest free over a period of 5 years on a monthly basis. You will be required to pay the non-refundable initial deposit of €500 and choose to pay the balance over 1 - 5 years, from as little as 41.66 a month.
You can pay for the full amount up front if you feel that a funeral plan may be needed within a short period of time.
This table indicates the level of payment options and monthly payments for the different plans available and all are interest free. All payments are on a monthly basis. All prices are in Euros, and if you wish to place a higher deposit, the monthly payments will be less.
DIRECT FUNERALS- interest free payment table. Based on a €500 deposit.

24 HOUR FUNERAL PLAN HELPLINE.
For those that have an existing FUNERALS DIRECT OR COMPARE FUNERALS PLAN
or anyone needing an immediate FUNERAL PLAN to take care of a funeral.
0034 951123043
OUR UNIQUE - POINT OF DEATH FUNERAL PLAN
WHAT ARE POINT OF DEATH FUNERAL PLANS?
POINT OF DEATH FUNERAL PLANS ARE ONLY AVAILABLE FROM FUNERALS DIRECT. No other Funeral Plan provider are offering this plan. A point of death (POD) funeral plan from Funerals Direct is for those that have not got a funeral plan and their loved one has passed away suddenly or unexpectedly. In this situation or unique P.O.D. (Point of Death) funeral plans mean that you can contract a funeral plan immediately and have all the arrangements taken care of.
If you find yourself in a situation where a loved one has passed away suddenly, you can call our Funeral Plan Hotline and contract a Funeral Plan immediately. Our team will organise and take care of the proceedings, including all the services of the Funeral plan you have chosen.
This means that you will not have to worry about the collection of the deceased or organise any of the paperwork or regulations that go with this process in Spain.
A Pre-paid funeral plan will give you peace of mind, the details will be taken care of, and you can concentrate on family and friends and grieve without any added pressures.
ONLINE POINT OF DEATH FUNERAL PLANS:
The facility to view and contract a Funeral Plan online immediately will be available on this website soon.

Peace of mind.
Ability to make sure that your wishes are carried out.
Freeze the cost of your funeral at today's prices.
Once it is paid for you no longer need to make any further payments, unlike Funeral Insurance plans.
Protect your family from the rising costs of funerals.
Protect your family from any emotional burden of having to plan and arrange the funeral at the time of death.
Get 50% cash back on your Funeral plan after 15 years.
Transferable if you move back to the UK.
24-hour English bereavement line.
Can be taken out at the time of death.
There are no age, health or credit checks required.
FUNERAL INSURANCE VS PRE-PAID FUNERAL PLANS.
Some people like to be prepared for the inevitable. It will happen to all of us at some point and preparation can take the stress, emotional strain, and financial worry out of the equation. Here we will explain the differences between the different between pre-paid funeral plans and funeral insurance in Spain.
Just like a will, being prepared and letting people know your plans will put them at ease, and the use of pre-paid funeral plans at an early age can save your family a lot of money when the time comes as there will be no unexpected bills or situations whereby you need to get a loan or use your credit card to cover the expenses. Not just that but having someone take care of all the legal requirements, ceremonies and legal fees and other costs that are involved will reduce the stress.
WHAT IS FUNERAL INSURANCE IN SPAIN?
Funeral insurance is like all other insurances. You pay a monthly premium that goes towards the lump sum cost of your funeral which is normally paid out on your death. You can choose the level of Funeral insurance cover you need or would like, and your family can use that money to pay for your funeral or anything else they want to spend it on. Funeral insurance can be very similar to a life insurance in that you may have to meet certain, medical age and health criteria to contract a policy. However, if it is a specific Funeral plan insurance, then the policy will not likely require, medical, age or health checks.
What is the difference between funeral plans and funeral insurance in Spain?
Funeral plans in Spain are usually sold to the Expat marketplace as a Plan that considers the burial or cremation, either in Spain or in your home country. Most of these plans incorporate everything including the full Monty funeral packages which will arrange everything from the removal of the deceased, completing all the administrative and necessary paperwork, flowers, services, repatriation and whatever your wishes may entail.
The more you want, the more expensive it will be. Most Funeral homes and Crematoriums in Spain will provide you with whatever you feel is suitable for you, even catering for the holding of the deceased until friends and relative can arrive to take part in the funeral services.
With so many different funeral plans now available in Spain and touting for your business, it is often difficult to know, or decide, which ones you can trust, and which ones are right for you. Due to the vast array of plans, many that are not that easy to find, you should always consult with a Funeral Plan Specialist in Spain.
CASH BACK ON FUNERAL PLANS IN SPAIN.
Our Direct Funeral pre-paid plans are the only plans in Spain that will offer you a 50% refund after 15 years, saving you even more money. If after 15 years of having one of our Funerals Direct, pre-paid, fully paid up Funeral plans, and you have not needed it, then you can reclaim 50% of the original Funeral Plan costs. This will not affect your statutory rights and you will still retain the full Funeral Plan conditions.
WHAT ARE THE DIASADVANTAGES OF BOTH?
Funeral insurance is a bit of a gamble as you do not know when you are likely to need it and could be paying far more into the insurance over a longer period, than was expected. If you cancel the insurance funeral plan you will not get anything back or have any cover.
With our Funerals Direct plans, you will get back 50% of the pre-paid amount after 15 years. These pre-paid plans will not require any additional payments and as funeral costs rise; you know it will cover what you have requested for your funeral plans.
A big disadvantage of Funeral Insurance is that it will only provide the funds to cover your funeral, albeit often with cash to spare for the family, and you will still have to make all the arrangements for the funeral at the time of death. Hence a Direct Funeral plan will do more, by taking the burden away from making the arrangements, paying fees, calling doctors, and sorting out the logistics at a time when you would rather someone did it all for you because you have pre planned it all.
CHOOSING THE RIGHT FUNERAL PLAN OPTIONS IN SPAIN.
It is always worth taking the time to speak to the professionals when trying to arrange the details of your funeral. if you don't have a plan in place. If you are just looking to provide the funds necessary for your funeral in the unforeseen future, having a regular savings plan or a simple life insurance policy could be an alternative if you are buying it for a young person. These funds can grow over time and be substantially more than you might need for a funeral at that time. It all depends on the life expectancy of the person the plan is for. If that person were to pass away unexpectedly, it might not be enough to cover the funeral costs.
With either option you are taking care of the costs or burdens incurred by your family members when you die.
Funerals Direct provide a selection of pre-paid funeral plans, term payment funeral plans, Funeral insurance plans and life insurance plans to cover your funeral and/or provide additional capital for your family when you are gone.
CAN I SWITCH MY FUNERAL PLAN IN SPAIN?
Switch your funeral plan in Spain and get up to €500 cashback.
Funerals Direct can arrange for you to switch your existing funeral plan and pay you up to €500 as a cash back or towards any cancellation fee that other funeral plan providers may insist upon. We believe in saving you money. As our Funeral plans are considered far more affordable than most, we can make this offer to you to switch your funeral plan to us.
Contact us and we will deal with all the paperwork and put your new Funeral Plan in place. With our Funeral plans you can also claim back another 50% of the plan value after 15 years and still have the full funeral plan cover in place.
WHAT HAPPENS IF I RETURN TO THE UK?
Our Marble Plan is designed to fulfill all of your repatriation needs to the UK.
OUR SAFE AND SECURE TRUST FUND
Our trust fund is completely independent, and ring fenced, thus making your money 100% safe.
Once you have decided which funeral plan best suits your needs, your money goes directly to the trust fund.
These finds can only be accessed by the Funeral provider either by production of a letter of cancellation or an invoice from a funeral director and death certificate.
If the funeral plan provider were to go into liquidation, or no longer exist, then the trustees of the trust fund will still provide the funeral service.
MORE INFORMATION.
FINDING THE RIGHT FUNERAL PLAN IN SPAIN
CREMATION AND FUNERAL SERVICES IN SPAIN
ASHES AND URNS AND WHAT TO DO NEXT
REPATRIATION OF THE ASHES FROM SPAIN TO UK OR BACK
PREPERATION OF THE BODY FOR REPATRIATION
JUST A SIMPLE CREMATION PLEASE
CAN I DONATE MY BODY TO SCIENCE IN SPAIN?
WHAT TO DO WHEN SOMEONE DIES IN SPAIN.
ARE ANY FUNERAL PLANS REGULATED IN SPAIN?
No, they are not. There are no legal requirements for Funeral plan providers to be regulated, there is no regulatory body for funeral planning although there is a code of practice. Funeral insurance plans are regulated to the same extent as any other insurance product, and you have a regulatory body and ombudsman service to deal with any issues that a funeral insurance company may or may not provide.
WHO ARE FUNERALS DIRECT IN SPAIN?
Funerals Direct is a subsidiary company of Plegasus Europe SL. CIF number B53888699. Registered in Spain with the Mercantile registry of Alicante in Spain. Funerals Direct collaborate with a variety of Funeral Insurance and Funeral Plan providers to offer a selection of the best Funeral Plans in Spain. Plegasus Europe S.L. operate a number o of businesses in Spain and are the exclusive agents for Compare Funerals in Spain. Compare Funerals are a registered company in the UK with offices in Spain.
Copyright and all rights reserved by Plegasus Europe SL. Updated November 2021.